Post no. 51 here:
The 2011 Wimbledon is over with the Men's Singles finishing yesterday, with the match-up we have been waiting for between Rafael Nadal (1) and Novak Djokavic (2). Djokavic has been in the form of his life having only lose once this year and after Wimbledon he will claim the world number 1 ranking.
Nadal was looking to win his 3rd Wimbledon title, and this was Djokavic's first Wimbledon title. People expected this to be a close match, but they were wrong. Djokavic won the first set 6-4 and took that form into the next set where he steam rolled Nadal to win 6-1.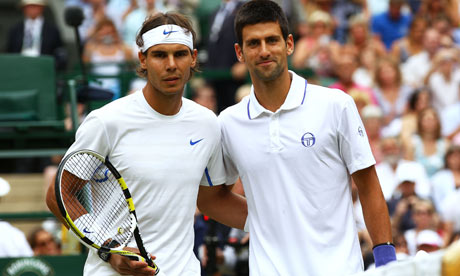 Nadal and Djokavic
Nadal didn't want to lose in straight sets and fought back to take the 3rd set 6-1, and things were starting to look up for him. Djokavic wanted the title more than Nadal and finished him off in the 4th set winning 6-3 and claiming his 1st Wimbledon title and his 2nd Grand Slam of the year.
Djokavic will look to the US Open to make it 3 from 4 this year, to cap off a wonderful year.
Joke of the Day:
Q. What are the wettest animals in the world?
A. Reindeer